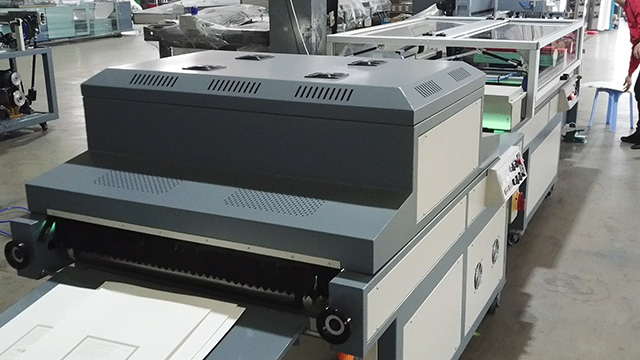 Jinbao's fully automatic screen printing machines are made from high-quality steel and castings, featuring complete specifications and abundant functions, which can be widely applied to packing boxes, decorative paper, stickers, anti-counterfeit labels, commercial posters and graphic printing.
Semi-automatic screen printing machines are usually used for screen printing on flat substrates, e.g. paper, plastics, glass, porcelain, metal, textile, leather etc. Since the machine is semi-automatic, some operations still require manual control. According to differences in structure, we divide semi-automatic screen printing machines into three types.
Application
The 3/4 automatic screen printing press consist of a screen printing machine, automatic discharging machine and UV curing machine, suitable for screen printing on soft substrates, such as paper.

Operation
With manual feeding and automatic discharging, the 3/4 automatic screen printing press is more efficient and labor saving compared with common screen printing machines.
Description
Equipped with the an advanced SAMBA sprayer, PCB, ink supply system and a stable cold stamping mechanism, the varnishing and stamping machine allows users to easily deal with various complicated UV curing and foil stamping technical issues in paper decoration, without hindrance of large quantities of materials to be printed or complicated printing processes.

Specification
Model: JB-105PT
Max. Substrate size: 1050×750mm
Min. Substrate size: 430×350mm
Top working speed: 60 m/min
UV curing machines are considered binding and finishing equipment. They use a strong UV radiation in order to curdle ink on a substrate, which takes only a few seconds. UV curing machines are widely used in electronics, optical fiber, LCD, screen printing and packaging industries.
Through a heating process, the drying equipment will vaporize water and other volatile liquids in the material in order to retain a specific moisture content in the material. As an essential piece of equipment in the printing industry, the drying equipment will accelerate ink and pigment solidification, thus shortening the printing processing times.
The automatic paper stacker is primarily used with ink solidification equipment, and is used to automatically stack printed sheets for an enhanced efficiency.
Screen printing plate making equipment is indispensable in the printing industry. Its performance directly determines the printing efficiency and quality, which is why we offer a variety of screen printing plate production equipment, including screen stretchers, screen coating machines, printing exposure machines and drying containers.
Overview
The JB-900TC automatic shaped window patching machine carries out SMC patching after corner cutting and groove punching. This equipment is often used for window patching in various cartons after shaping and punching.

Feature
1. The screen printing gluing ensures the glue layer is thick and even.
2. The feeding part is driven by a servo motor that achieves high precision patching through 3 point positioning.
---
Graphic Printing
Print finishing printing (Spot UV etc)
Plastic cards printing
Textile transfer printing
Ceramic/glass transfer
Medical printing
Automotives printing
Electronics /overlays
Bank notes
Jinbao Machinery, established in 1997, specializes in providing printing machinery such as automatic screen printing machines and other auxiliary printing machines. With more than 20 years of experience in the design and production of screen printing machinery and a fully equipped factory outfitted with advanced processing equipment, testing equipment, and computer design systems, our printing equipment is widely known for its outstanding performance. We also provide customers with ODM and OEM custom services.