3/4 Automatic Screen Printing Press

Application
The 3/4 automatic screen printing press consist of a screen printing machine, automatic discharging machine and UV curing machine, suitable for screen printing on soft substrates, such as paper.
Operation
With manual feeding and automatic discharging, the 3/4 automatic screen printing press is more efficient and labor saving compared with common screen printing machines.
When the screen printing machine finishes printing and the printing arms are lifted, the mechanical arms of the discharging machine will reach between the printing arms and the workbench, pull out the printed matters and send them to the next process (drying, curing and stacking).
Video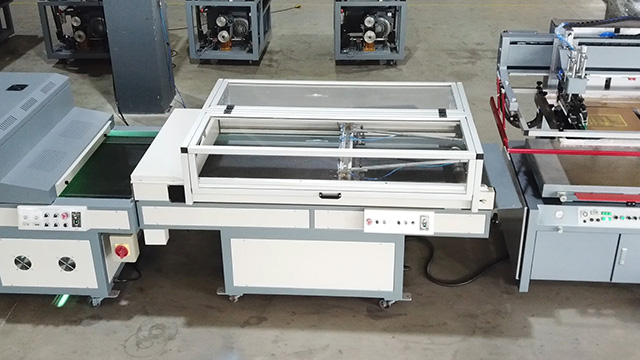 Tech Specs

Screen printing machine
| | | | |
| --- | --- | --- | --- |
| Screen Printing Part | JB-750 II | JB-960 II | JB-1280 II |
| Discharging part | JB-800CL | JB-800CL | JB-900CL |
| UV curing Part | JB-800B | JB-800B | JB-900B |
| Top Speed | 1100 pcs/h | 1000 pcs/h | 900 pcs/h |
| Paper weight | Below 500g/m² | Below 500g/m² | Below 500g/m² |
| Spec of paper | 700×500mm² | 900×600mm² | 1200×800mm² |
| Power | 15.24KW | 16.49KW | 16.89KW |
| Weight(about) | 1400KG | 1530KG | 1650KG |
| Overall dimension | 6600×1050×1760mm³ | 6800×1180×1760mm³ | 7100×1400×1850mm³ |
| | | | |
Discharging machine
| | | |
| --- | --- | --- |
| Model | JB-800CL | JB-900CL |
| Top speed | 1200pcs/h | 1200pcs/h |
| Paper weight | 500g/㎡ | 400g/㎡ |
| Max. paper width | 720mm | 820mm |
| Power | 220V, 290W | 220V, 290W |
| Weight | 350kg | 400kg |
| Overall dimension | 2000×1000×1100mm³ | 2200×1100×1100mm³ |
| | | |