Infrared and Ultraviolet Dryer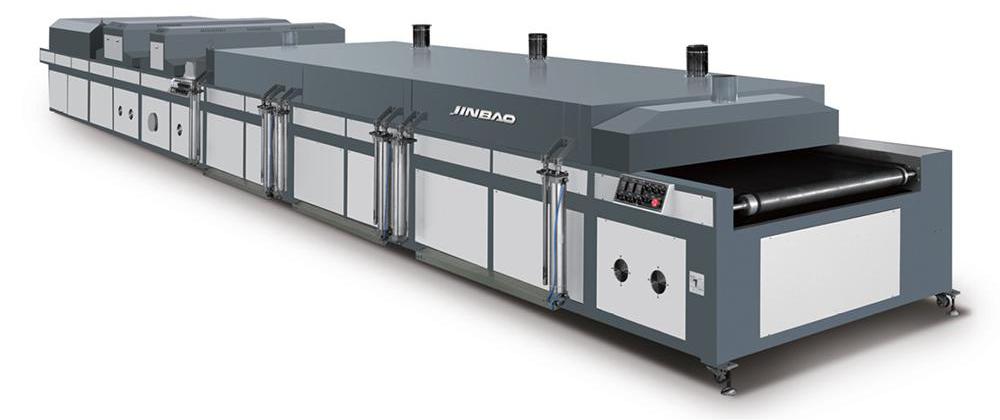 Application
The infrared and ultraviolet dryer is divided into multiple chambers, which are freely connected in order to meet different printing requirements. This allows the infrared and ultraviolet dryers to be widely used for the solidification of a variety of UV inks and pigments.
The standard configuration comes with 3 groups of hot dryers, a set of UV curing devices and a set of AC cooling devices, ensuring a satisfactory solidification effect.
Specification
Model
JB-800P
JB-1100P
Max. conveying speed
60m/min
60m/min
Conveying motor power
0.75KW
0.75KW
Effective curing width
800 mm
1100mm
IR group
Max. temperature
120℃
120℃
Frist group
1.5kw×12pcs
1.5kw×12pcs
Other groups
1.5kw×9pcs×(team-1)
1.5kw×9pcs×(team-1)
Hot wind circulation fan
1.1kw×2×3team
1.1kw×2×3team
UV group
UV lamp power
10.0kw×3pcs
10.0kw×3pcs
UV Exhaust fan power
0.37kw×3
0.37kw×3
Weight
450kg×teams+300kg
500kg×teams+300kg
Overall dimensions
(2×teams+1500)×1870×1850mm³
(2×teams+1500)×2090×1850mm³




Features
Closed cycle pipelines are evenly distributed inside the dryer, and are responsible for maintaining an efficient and stable hot air flow. The hot air is ejected downwards onto the objects on the conveyor belt as a beam aperture. The heat transfer coefficient is large, and the drying process is fast with a low energy consumption.
The cool wind in the cooling system forms a constant downward cold air flow with the help of a high pressure blower, and is able to quickly lower the object temperatures.
The variable frequency conveying system uses a conveyer belt made of heat resistant, friction resistant and radiation resistant Teflon, guaranteeing a long service life.
There is a pneumatic lifting set in the dryer, which make it easy to clean and maintain.
The automatic tensioning and correcting mechanism ensures a stable conveying and operation convenience.