Economical Microcomputer Flat Screen Printing Machine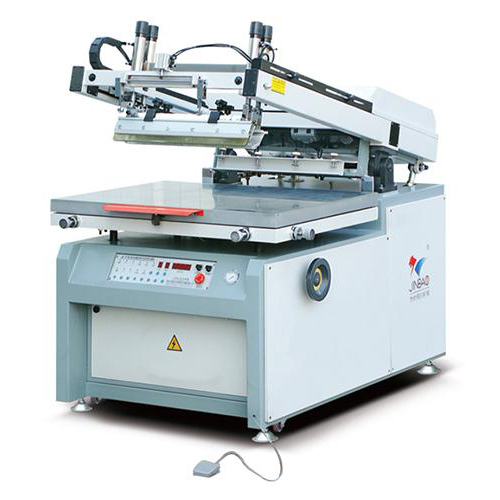 Description
Economical microcomputer flat screen printing machines are controlled by microcomputer with clear meshes and operate with a long lifespan. Economical microcomputer flat screen printing machines can be used for screen printing on flat substrates, e.g. paper, plastics, glass, porcelain, metal, textile and leather etc.
Specification
Model
JB-6090G
JB-8012G
Max. printing area
600×900mm²
800×1200mm²
Max. dimension of the frame
950×1100mm²
1250×1500mm²
Dimension of workbench
800×1000mm²
1000×1300mm²
Printing speed
1200pcs/h
1000pcs/h
Print thickness
Below 25mm
Below 25mm
Height of instant off-network
0-15mm
0-20mm
Weight
500kg
600kg
Overall dimension
1650×1100×1300mm³
1900×1400×1400mm³
Printing motor power
0.75KW
1.1KW
Printing shaft power
0.75KW
1.1KW
Blower power
1.1KW
1.5KW
Power
2.95KW
3.7KW
Power supply
3P,380V,50Hz




Feature
The four cylinders ensure even printing pressure and clear meshes.
The height of the off-network device can be adjusted quickly, guaranteeing printing accuracy and quality.
The pressure of squeegee and flood coater can be adjusted steplessly, improving the lifespan of screen and printing quality.
The squeegee stroke and the size of screen frame can be altered conveniently for prints of various specifications.
The stainless steel composite workbench is scratch resistant and deformation resistant.